Welcome to Ondřej Slabý Group!
We are focused on the roles of non-coding RNAs (microRNA, PIWI-interacting RNAs, long non-coding RNAs, etc.) in molecular pathology of solid cancers and their potential as innovative diagnostics and novel therapeutic targets in oncology. ​​​
News​
23/02/2020 New articles out!
​Spontaneous adenocarcinoma of the gas gland in Nothobranchius fishes.
Dyková I, Blažek R, Součková K, Reichard M, Slabý O
Diseases of Aquatic Organisms (DAO). 2020; 137 (3). Online publication date: Jan 30, 2020 doi:10.3354/dao03437
The Emerging Role of Noncoding RNAs in Pediatric Inflammatory Bowel Disease.
Jabandziev P, Bohosova J, Pinkasova T, Kunovsky L, Slaby O, Goel A.
Inflamm Bowel Dis. 2020 Feb 3. pii: izaa009. doi: 10.1093/ibd/izaa009. [Epub ahead of print]
Personalized Treatment of H3K27M-Mutant Pediatric Diffuse Gliomas Provides Improved Therapeutic Opportunities.
Gojo J, Pavelka Z, Zapletalova D, Schmook MT, Mayr L, Madlener S, Kyr M, Vejmelkova K, Smrcka M, Czech T, Dorfer C, Skotakova J, Azizi AA, Chocholous M, Reisinger D, Lastovicka D, Valik D, Haberler C, Peyrl A, Noskova H, Pál K, Jezova M, Veselska R, Kozakova S, Slaby O, Slavc I, Sterba J.
Front Oncol. 2020 Jan 10;9:1436. doi: 10.3389/fonc.2019.01436. eCollection 2019.
Therapeutic potential of FLANC, a novel primate-specific long non-coding RNA in colorectal cancer.
Pichler M, Rodriguez-Aguayo C, Nam SY, Dragomir MP, Bayraktar R, Anfossi S, Knutsen E, Ivan C, Fuentes-Mattei E, Lee SK, Ling H, Catela Ivkovic T, Huang G, Huang L, Okugawa Y, Katayama H, Taguchi A, Bayraktar E, Bhattacharya R, Amero P, He WR, Tran AM, Vychytilova-Faltejskova P, Klec C, Bonilla DL, Zhang X, Kapitanovic S, Loncar B, Gafà R, Wang Z, Cristini V, Hanash SM, Bar-Eli M, Lanza G, Slaby O, Goel A, Rigoutsos I, Lopez-Berestein G, Calin GA.
Gut. 2020 Jan 27. pii: gutjnl-2019-318903. doi: 10.1136/gutjnl-2019-318903. [Epub ahead of print]
Assessment of Tumor Mutational Burden in Pediatric Tumors by Real-Life Whole-Exome Sequencing and In Silico Simulation of Targeted Gene Panels: How the Choice of Method Could Affect the Clinical Decision?
Noskova H, Kyr M, Pal K, Merta T, Mudry P, Polaskova K, Ivkovic TC, Adamcova S, Hornakova T, Jezova M, Kren L, Sterba J, Slaby O.
Cancers (Basel). 2020 Jan 17;12(1). pii: E230. doi: 10.3390/cancers12010230.
miR-181a-2* expression is different amongst carcinomas from the colorectal serrated route.
Kondelova A, Alburquerque-González B, Vychytilova-Faltejskova P, García-Solano J, Prochazka V, Kala Z, Pérez F, Slaby O, Conesa-Zamora P.
Mutagenesis. 2019 Nov 30. pii: gez039. doi: 10.1093/mutage/gez039. [Epub ahead of print]
​16/12/2019 Christmas party of Ondřej Slabý Group!
A lot of traditional sweets and less traditional pizzas were present too:). May this Christmas be a fitting ending to a successful year for you.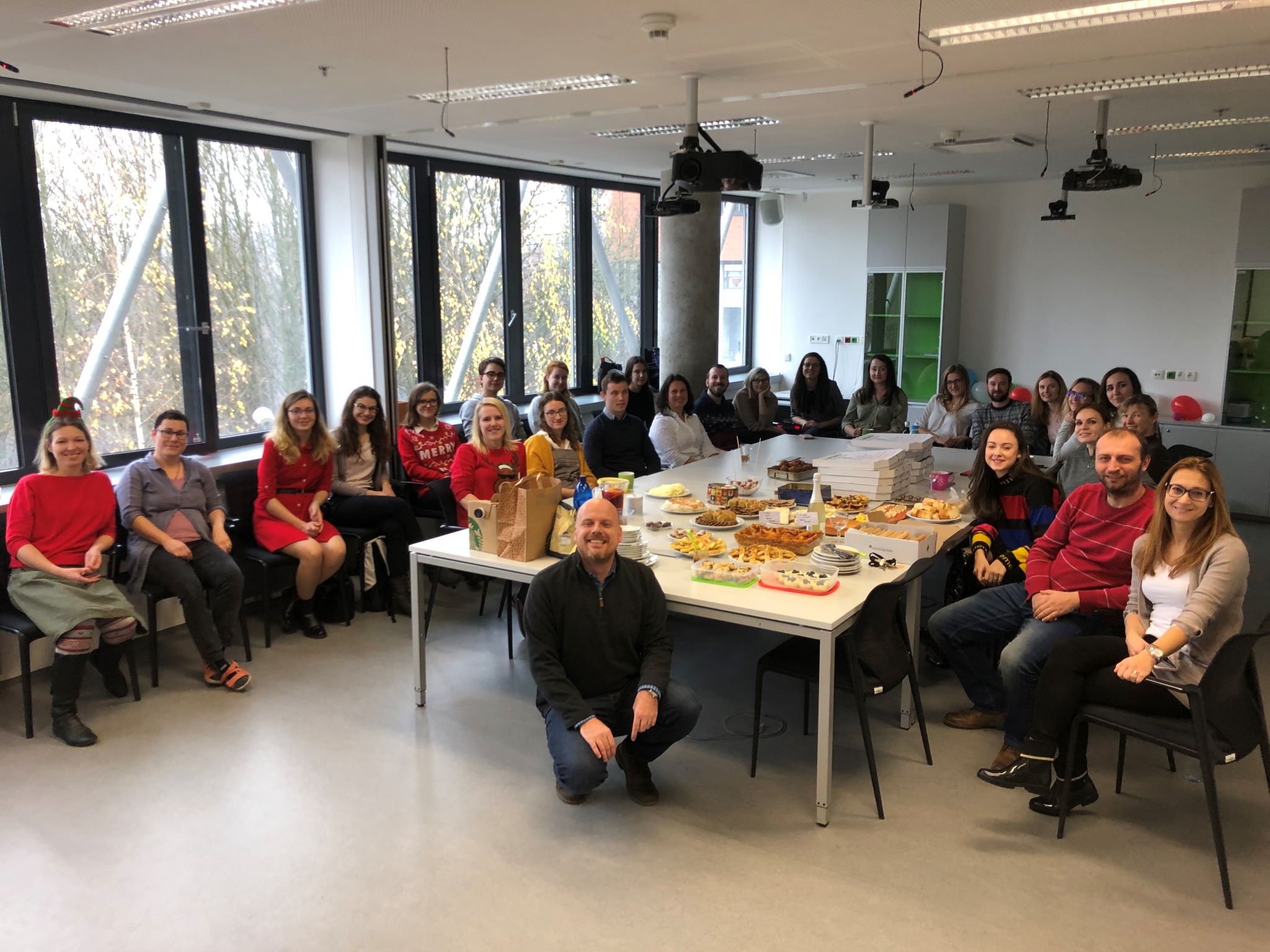 15/12/2019 New article out!
Identification of a Diagnostic Set of Endomyocardial Biopsy microRNAs for Acute Cellular Rejection Diagnostics in Patients After Heart Transplantation Using Next-Generation Sequencing
Nováková T, Macháčková T, Novák J, Hude P, Godava J, Žampachová V, Oppelt J, Zlámal F, Němec P, Bedáňová H, Slabý O, Bienertová-Vašků J, Špinarová L, Krejčí J.
Cells. 2019 Nov 6;8(11). pii: E1400. doi: 10.3390/cells8111400 PMID: 31698874

12/10/2019 New articles out!
Current Concepts of Non-Coding RNAs in the Pathogenesis of Non-Clear Cell Renal Cell Carcinoma.
Barth DA, Slaby O, Klec C, Juracek J, Drula R, Calin GA, Pichler M.
Cancers (Basel). 2019 Oct 17;11(10). pii: E1580. doi: 10.3390/cancers11101580. Review.
Cerebrospinal Fluid MicroRNA Signatures as Diagnostic Biomarkers in Brain Tumors.
Kopkova A, Sana J, Machackova T, Vecera M, Radova L, Trachtova K, Vybihal V, Smrcka M, Kazda T, Slaby O, Fadrus P.
Cancers (Basel). 2019 Oct 12;11(10). pii: E1546. doi: 10.3390/cancers11101546.
Translational Potential of MicroRNAs for Preoperative Staging and Prediction of Chemoradiotherapy Response in Rectal Cancer.
Machackova T, Prochazka V, Kala Z, Slaby O.
Cancers (Basel). 2019 Oct 12;11(10). pii: E1545. doi: 10.3390/cancers11101545. Review.
13/9/2019 New articles out!
MicroRNA Biogenesis Pathway Genes Are Deregulated in Colorectal Cancer.
Vychytilova-Faltejskova P, Svobodova Kovarikova A, Grolich T, Prochazka V, Slaba K, Machackova T, Halamkova J, Svoboda M, Kala Z, Kiss I, Slaby O.
Int J Mol Sci. 2019 Sep 10;20(18). pii: E4460. doi: 10.3390/ijms20184460.
MiR-376b-3p Is Associated With Long-term Response to Sunitinib in Metastatic Renal Cell Carcinoma Patients.
Kovacova J, Juracek J, Poprach A, Kopecky J, Fiala O, Svoboda M, Fabian P, Radova L, Brabec P, Buchler T, Slaby O.
Cancer Genomics Proteomics. 2019 Sep-Oct;16(5):353-359. doi: 10.21873/cgp.20140.
10/9/2019 Our colleague, Petra Veselá, has won the best poster award at Biology Days 2019, congratulations!
​ ​8/5/2019 Congratulations to our colleague, Kamila Součková, who won the best poster award at Brno oncology Days 2019!
2/5/2019 We proudly announce that our colleague, Jaroslav Juráček, succesfully defended his wonderful dissertation and from now on holds a Ph.D. degree.
26/3/2019 New review article: MicroRNA-215: From biology to theranostic applications.
Vychytilova-Faltejskova P, Slaby O.
Mol Aspects Med. 2019 Mar 26. pii: S0098-2997(19)30001-9. doi: 10.1016/j.mam.2019.03.002. [Epub ahead of print] Review.
1/3/2019 New article: MicroRNA-15b-5p Predicts Locoregional Relapse in Head and Neck Carcinoma Patients Treated With Intensity-modulated Radiotherapy.
Ahmad P, Sana J, Slavik M, Gurin D, Radova L, Gablo NA, Kazda T, Smilek P, Horakova Z, Gal B, Hermanova M, Slampa P, Slaby O.
Cancer Genomics Proteomics. 2019 Mar-Apr;16(2):139-146. doi: 10.21873/cgp.2011
28/2/2019 Our wonderful graduate student, Karolína Trachtová, has been recently awarded with Brno Ph.D. Talent award for her doctoral project on analysis of global methylation profiles and gene fusions in pediatric oncology (more about her project here). Congratulations!
22/2/2019 Dominika Brchnelová, a vital part of our group and a student of Biochemistry Master's Study Programme has been accepted for Cancer Biology Doctoral Study Programme in Lubor Borsig's Lab at the Life Science Zurich Graduate School, University of Zurich!
11/2/2019 New article: Testing of library preparation methods for transcriptome sequencing of real life glioblastoma and brain tissue specimens: A comparative study with special focus on long non-coding RNAs.
Vecera M, Sana J, Oppelt J, Tichy B, Alena K, Lipina R, Smrcka M, Jancalek R, Hermanova M, Kren L, Slaby O.
PLoS One. 2019 Feb 11;14(2):e0211978. doi: 10.1371/journal.pone.0211978. eCollection 2019.
23/1/2019 Our group is honoured to host a kick-off meeting of RNA DIAGON Project supported by the EU Commission H2020-MSCA-RISE funding scheme. Researchers from 5 institutions will develop knowledge through their long-term stays at the University of Texas at Austin. Many thanks to prof. George A. Calin for a wonderful talk prior to the meeting as part of the Life Sciences Seminar Series. https://twitter.com/GroupSlaby/status/1088141738202533890
​
13/11/2018 New article: Tumor expression of miR-34a-3p is an independent predictor of recurrence in non-muscle-invasive bladder cancer and promising additional factor to improve predictive value of EORTC nomogram.
Juracek J, Stanik M, Vesela P, Radova L, Dolezel J, Svoboda M, Slaby O.
Urol Oncol. 2018 Nov 13. pii: S1078-1439(18)30397-1. doi: 10.1016/j.urolonc.2018.10.014. [Epub ahead of print] PMID: 30446443
1/9/2018 We gladly welcome new postdoc in our research group, Tina Catela Ivković, Ph.D.!
2/12/2018 New article: Identification of microRNAs differentially expressed in glioblastoma stem-like cells and their association with patient survival.
Sana J, Busek P, Fadrus P, Besse A, Radova L, Vecera M, Reguli S, Stollinova Sromova L, Hilser M, Lipina R, Lakomy R, Kren L, Smrcka M, Sedo A, Slaby O.
Scientific Reports. 2018 Feb 12;8(1):2836.
2/8/2018 You can find our news also on Twitter as @GroupSlaby
2/2/2018 New article: Genome-wide identification of urinary cell-free microRNAs for non-invasive detection of bladder cancer.
Juracek J, Peltanova B, Dolezel J, Fedorko M, Pacik D, Radova L, Vesela P, Svoboda M, Slaby O, Stanik M.
J Cell Mol Med. 2018 Jan 24. doi: 10.1111/jcmm.13487.